"Sometimes the questions are complicated and the answers are simple."
―
Dr. Seuss
I am going to try and get back in the habit of writing everyday. It may not be much but I do want to keep sharing my journey of my designing with all of you who care.
This last weekend I added a great piece to my office space. Actually Marv found it for me and pointed it out. I didn't notice it until he drew my attention to it. It hold my balls of Dmc and Lizabeth threads beautifully. I holds over 200 balls of thread and fits in my corner wonderfully. I literally have my threads within arms reach now. So when I want to choose threads, color coordinate, I just have to reach around and they are there. How wonderful is that. It's tall and narrow so it doesn't take up much floor space.
Thank you sweetheart for looking out for me.
Last week I also finished up a piece I have working on for a while. It's really didn't take me all that long to actually make it. It just that I had to keep setting it aside while I did work that had deadlines. But I finally took the time to finish this up and I am very pleased with the results. Unfortunately I really shouldn't show pictures of finished pieces until the patterns are released. But I do have teaser shot. You can at least see the colors I used.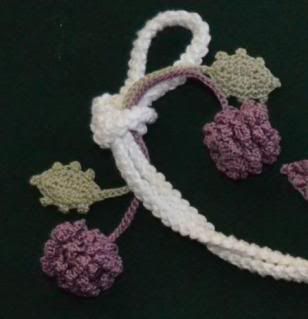 On the hook now is another piece that has been waiting for me to find the time to complete. I am hoping to have it done by the end of this weekend.
If I should accomplish that, I will feel so good to have two special pieces done already this year.
My list of pieces I want to do seems to be growing not shrinking.
At least I can never complain that I am bored. All I have to do is go through my sketches and something screams at me.
Actually too many of them scream this at me and my choices are hard to make.
Well my hook is calling my name so I will go get to work.
Do I ever worry that inanimate objects keep calling out to me?
Well sometimes, But it is what it is.