Elsie has told me in no uncertain terms that it is time I start posting on my blog again. She is such a nag.
I know I have been horrible this last couple of months about posting. Shame on me. I did have a book come out here last month. Its called Beautiful Bullions.
I really enjoyed designing the pieces for this book. The necklace above is one of the pieces from the book.
Of course we have been hiking. We spent the weekend before Christmas at the Catalina State park. We hiked up to the Romero Pools one day. It was a lovely hike and we will be doing this one again.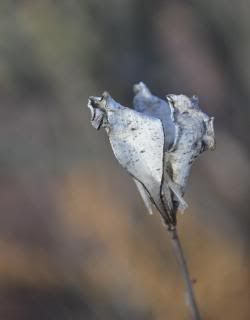 There wasn't too much blooming but some of the old flower heads and seed pods are beautiful to behold by themselves. It won't be long and things will be blooming again.
Okay now Elsie has a satisfied look on her face.
I think I will go pick up my hook and enjoy the rest of the afternoon.