OOOOOOH Lookie
Wiggly Crochet Dishcloths
By Susan Lowman
This is my first blog tour and I was thrilled when Susan asked me to take part in it.
She is a talented designer and a good friend.
Her new book Wiggly Crochet Dishcloths is a must have for anyone who loves to make dishcloths.
The book is concise and well written. Making these charmers easy to make as well as functional. The charts are well done and easy to understand.
I whipped mine up in little over an afternoon.
I must admit I didn't use the recommended yarn as I like a little smaller dishcloth since I have small hands. So I made mine out of Aunt Lydia's size 3 crochet thread with as size 00/3.5 mm hook. It helped me use up some of my stash and gave me the size I feel comfortable holding. I also only used 3 colors total instead of 4 for mine as that is what I had in stock and I didn't want to wait to go buy more thread.
Mine came out 8 and 1/4 inches square.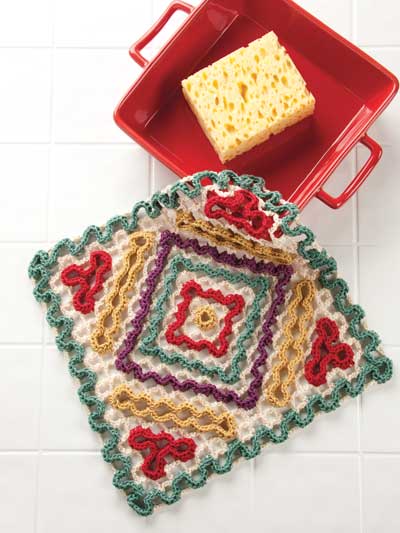 This is the design I chose to make the Diagonal Dishcloth
There are 5 more great design in the book.
My finished dishcloth.
Though if you are like me you may not want to use these beauties as dishcloths. ( too pretty )

Mine just might be used to set a warm pan on on my counter top instead.
Being cotton it will work well for that also.
Though as a dishcloth they are lightweight, even wet. textured with the wiggles to help get your dishes clean, and charming enough to help make a dreary job cheerful.
Another view of my dishcloth
My only complaint about the pattern is that like a lot of patterns, us poor lefties were forgotten. Susan promises to do better in the future. But if you are left handed you can still easily make these if you remember you will be crocheting in the opposite direction than what the arrow points.
Overall though I enjoyed the pattern and will most likely make a few more from this book to give as gifts.
My finished dish cloth and Susan Lowman's Book
Wiggly Crochet Dishcloths
Remember to go visit Susan at her Blog and enter to win a signed book for yourself.
But if you are like me and not the lucky sort you can also go to Annie's and get a copy for yourself. It will definitely be worth it.
Go here to order your copy of Wiggly Crochet Dishcloths